DOM OMLADINE BELGRADE – SEASON 2012/2013
06.09.2012.
2012/2013 is the second season of Dom omladine since its reconstruction. DOB will continue with events that have attracted attention during the previous season, and add numerous functionality innovations, as well as new projects and activities which will make this cultural centre even more dynamic and attractive for the public. While the previous season focused on bringing large audiences to the spacious Big Hall and Americana Hall, this season we'll focus on the production of smaller events for the DOB halls and Klub Dom omladine.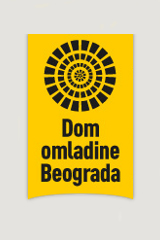 During the ongoing general crisis, both financial and ideological, Dom omladine will further try to question and (re)form its role in contemporary art production, comparing its work to the tendencies and trends set by the creative industry.
The central music event this fall will be the 28th Belgrade Jazz Festival. Since the festival's rebirth in 2005, we have built an important continuity of this important event. This year's festival opening is dedicated to Miles Davis through the outstanding project "Miles Smiles" which will include his dearest associates and even his original trumpet. On the 20th anniversary of Davis's death, this very valuable project will present the music of one of the finest jazz trumpeters of all time. He is historically the most important friend of the Belgrade Jazz festival, performing here on three occasions. A special part of the opening will be dedicated to singer Bisera Veletanlic and the band Darkwood Dub, whose cooperation presents a connection line ranging from the 1960s to 2010s, and generating possible new views in jazz. The 28th BJF will introduce many exceptional names of contemporary jazz, from Dave Douglas and Joe Lovano in a spectacular new cooperation, via Ambrose Akinmusire, the new trumpet wonder, Mostly Other People Do The Killing, a New York free jazz band lead by trumpeter Peter Evans, to trumpeter and percussionist Jerry Gonzalez,  a veteran of the Latin jazz scene. The trumpet as one of the most expressive instruments will be in focus during this year's Belgrade Jazz festival, as the piano was last year.
As for other contemporary arts, the second LIMIT – Live Art festival will be held during November 22-25. After last year's success and the attention it received both in Serbia and abroad, this year, among others, we'll introduce Raimund Hoge, the closest associate of the legendary Pina Baus whose twenty years of work is being celebrated across France and Germany. Limit will also host performances by artists from France, Norway, Slovenia, Croatia and Serbia. The festival will again include Night of Performances. This year some shows within Limit will be held in other venues.
Dom omladine dedicates an important segment of its work to socially engaged and humanitarian events. The most important will be the Meow Weekend in September. Through feature and animated films, exhibitions, books, lectures and panels about cats, DOB will again promote responsible ownership.
Dom omladine is proud of its numerous educative programs and those supporting social dialogue. After the success of the cycle "Gender and the Left" which we realized in cooperation with the Women's INDOK Centre (Zenski INDOK Centar), we proudly announce a two day conference ZENERAMA, that will be held in October. It will include all-day debates, lectures and presentations on gender topics and women in the media. The aim will be to raise awareness of the reduced position of women in the media and breaking the stereotypes about women in the media. This season we'll continue with the cycles "People and Animals", "Pop Culture" and "Believe it or Not". All programs are free and open to the public.
Within our Promotions program, we announce the promotion of Zenicke svjeske, one of the most important magazines in the region for promoting new thought and literature, as well as their publications such as "Lacan's Quiet Interlocutors" (Tihi sagovornici Lakana) by Slavoj Zizek and A Diary of a Hedonist (Dnevnik hedoniste) by Michel Onfray. These publications are an introduction to the cycle of atheistic debates and book readings.
Famous for decades for its concerts, Dom omladine continues to host performances by smaller and bigger domestic bands, but also of foreign musicians. From the older generations, Obojeni program and veterans Igre staklenih perli will hold their concerts. DOB will host several concerts of popular younger rock bands like Eyesburn and KKN who are still up on the charts. We draw your attention to the first solo concert of the new domestic phenomenon – the band Stray Dogg, and the jazz band Majamisty Trio. Foreign bands will continue to be our guests. This year Mark Lanegan, one of the greatest authors of the American rock and singer-songwriter scene for 30 years now, will be coming to DOB. Lanegan has a unique strong voice and authentic appearance and has influenced many American authors.
DOB cooperates with numerous organizations, societies and festivals. Part of our annual program is done in co-organization with associates. Besides partner festivals like Free Zone, Author Film Festival, Queer Film Festival "Merlinka" and Green Film Festival, this year visitors will enjoy a selection of the best Polish and French films, a film day dedicated to William Burroughs, a showcase of the best animated films. In November DOB's guest will be the famous Yugoslav and Croatian director – Veljko Bulajic.
During September 6 -12, DOB will present the documentary exhibition about Bekim Fehmiu followed by a showcase of his films. The exhibition "Bekim Fehmiu – Richess Lost in Silence", displays the wonderful and rich acting career of Bekima Fehmiu, and is simultaneously a testimony of his exceptional ethical, intellectual and humanitarian principles and beliefs that surpassed the limits of national cultures and borders.
We prepared two interesting theatre shows for September. The famous New York avant-garde theatre – LaMaMa will visit Belgrade celebrating their 50th anniversary and visiting the new-founded Studio – Performing Arts Laboratory (organized within the Faculty of Dramatic Arts in Belgrade). The show "La MaMa cantata" is a history of the New York avant-garde scene, presented through the life of one of its main characters – Ellen Stuart. The stage play "Indigo", written by Dusko Premovic and directed by Branislav Lecic, will also premiere in DOB.
The Gallery of Doma omladine will continue to promote young artists. We focus your attention on the curator exhibition of Ana Prodanovic which confronts the works of two artists of the younger generation – Marko Markovic and Sasa Tkacenko. DOB will also host the new production of Sejma Prodanovic and the newest installations of the always lucid Mica Stajcic.
Komentari